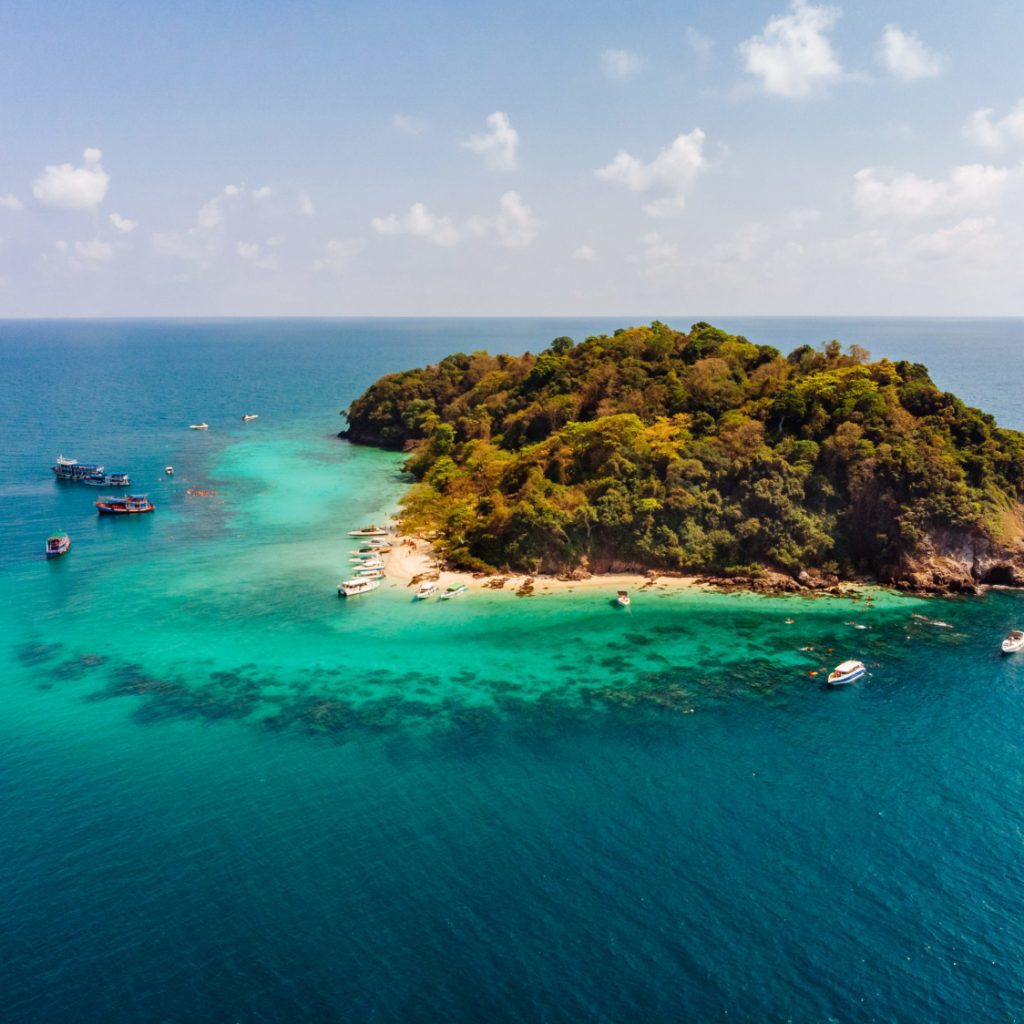 Top 10 places to explore in Andaman and Nicobar Islands
If heaven on earth could be described in a picturesque setting, it would be the islands of Andaman and Nicobar. Every step on these golden sands, every dip in these crystalline waters, feels like stepping into paradise. This place can only be termed a paradise because of certain locations that are considered hotspots, so let's take a look at them.
Andaman and Nicobar Islands is a place where you will be completely engulfed by the beauty of their gorgeous and breath-gasping beaches, accompanied by lush forests and rich cultural heritage. Tourists from around the world visit these islands to appreciate the immaculate beauty it oozes out, and when you think of paradise, you surely get one.
These islands are a sight to behold for those who desire to seek a thrilling adventure, discover their spiritual side and connect with their individuality. This is a sanctuary for anyone who wants to live life by the minute and be emancipated by the hectic commotion of everyday life.
To be honest, there is just something about this place – Every year, millions of people are lured and mesmerized by the beauty of these soothing and lush islands, beaches, museums, restaurants, and water rides. You name it, they got it! So, avid readers and adventure junkies out there, let's turn on the ignition and jump abroad on our journey to the best places to visit in Andaman and Nicobar.
Places to drop by while exploring Andaman and Nicobar
Andaman and Nicobar Islands offer a unique experience of nature, adventure, and cultural diversity. Here are some must-visit spots you shouldn't miss while exploring this enchanting archipelago.
Havelock Island
Havelock Island, also known as Swaraj Island, is one of the most highly visited and popular islands in the entire landscape of Andaman and Nicobar. If you appreciate the beauty of white beaches that sparkle under the moonlight, lush gargantuan forest, and serene aquatic life, home to some of the most mesmerizing coral reefs, this is where you belong. This island is home to three extremely exotic beaches – Radhanagar, Vijayanagar, and Elephant. Just imagine being surrounded by crystal clear marine green water, lush forests, and fewer people, you would feel like the protagonist of a boujee beach flick.
Barren Island
We bet you didn't know this!! Because guess what – Barren Island is home to India's only active volcano. This island is located on the active tectonic plates of the Andaman seas, and because of these ingredients, barren islands are highly revered as avid tourist locations. The only downfall is that people can't visit this location but can only view it from a distance. The last time this volcano erupted was around the year 1994. This place is completely unhabitable by humans for obvious reasons, but imagine how fun it would be to step on these molten rocks.
Cellular Jail
When the party settles down, let's take a moment to appreciate the sacrifice and valor of our freedom fighters who were imprisoned at the cellular jail. Constructed in 1906, this site is aligned with a dark history and symbolizes sacrifice and patriotism. This still remains one of the most iconic and quintessential landmarks to visit in Andaman. It was constructed by the British government to torture Indian freedom fighters and break their will for resistance. With solitary confinement in mind, each prisoner was kept in a separate cell – The aim was to break every possible communication channel between them.
Chidiya Tapu
Discover the tranquil beauty of Chidiya Tapu – A pristine destination nestled on the southernmost tip of the Andaman Islands. Immerse yourself in the breathtaking vistas of the azure waters, lush green forests, and diverse avian fauna. You can view the glorious sunset at the picturesque Munda Pahar Beach and walk along the tranquil coastline. The stunning natural beauty of Chidiya Tapu will enchant and rejuvenate you. Indulge in a range of water activities such as snorkeling, scuba diving, and fishing or relax and soak in the serenity of this untouched paradise.
Ross Island
Known for boasting the ruins of British and Japanese buildings, this place is considered extremely esoteric as compared to the other history prevalent in Andaman and Nicobar. This island used to be the capital of the British from 1858 to 1941. Later, it was annexed by the Japanese and converted into a POW site. Today Ross Island beholds a site of British ruins in the form of swimming pools, British graveyards, cathedrals, church ruins, etc. Ross Island offers a unique experience, unlike any other typical tourist destination, transporting you back in time to the era of the British colonial period.
Wandoor Beach
This beach is considered the nucleus of beaches scattered all across; it is considered the nucleus because it is a major tourist attraction for beach lovers. So, if you're planning to visit Andaman and lay on the beach to soak in the sun and appreciate the calmness of mother nature, then Wandoor beach is the one to visit. The coastline is covered by Lucious white sands and spectacular huts adding to the beauty of an astonishing landscape. The beach is known to be less crowdy, so this is your perfect escape from city life. You can do anything here- run along the coastline, meditate, make art, and the list goes on.
Jolly Buoy Island
These islands are highly revered for being ecologically preserved and having low population density. The low population density led to this location being one of the cleanest islands in the entirety of the Andamans. The island is home to a rich biodiversity of flora and fauna and has been declared a plastic-free zone. Upon arrival, you will be enchanted by the immaculate state, serene ambiance, breathtaking coral reefs, and picturesque woodland of this place. The coral reefs in this area are unrivaled compared to other tourist attractions in Andaman. This island is part of the Mahatma Gandhi Marine National Park.
Mount Harriet National Park
Mount Harriet National Park has a panorama of numerous beautiful forest reserves, beaches, and rugged mountain ranges. You can be anyone – a backpacker, a college student, or a young couple celebrating their honeymoon; this place will definitely put a smile on your face. Nature lovers and honeymooners can enjoy peaceful moments at this park, while wildlife enthusiasts can observe a diverse range of flora and fauna, including unique bird species such as the Andaman Treepie and Black-Naped Tern. A visit to Mount Harriet National Park is a must for any traveler to Andaman.
Saddle Peak
To get an eagle's view of the Andaman Islands, you must visit Saddle Peak. While trekking to Saddle Peak – the highest peak in the Andaman Islands, you will be enchanted by the breathtaking natural wonders God has bestowed upon this stunning destination. The entire landscape of Saddle Peak by lush tropical forests, which come under the highly reputed Diglipur National Park. If you are an avid trekker, you will find the trek extremely fun yet gut-wrenching. The entire experience is a quirky amalgamation of spine-chilling and adrenaline-inducing.
Red Skin Island
Prepare to experience the beauty of Red Skin Island, the premier travel destination in Andaman & Nicobar Island. This island is a haven for honeymooners, artists seeking inspiration, nature enthusiasts seeking tranquility, and adventure seekers. With crystal-clear waters, stunning views, and peaceful surroundings, Red Skin Island is the top choice for an unforgettable vacation in Andaman. The island is named after the vibrant red coral reefs visible along its shores, drawing visitors from around the globe to enjoy its relaxed ambiance. With its breathtaking scenery and serene atmosphere, Red Skin Island is the ultimate family getaway in Andaman.