Luxury Thailand Tour Package for Bangkok & Pattaya (6 D / 5 N)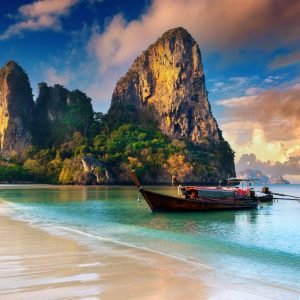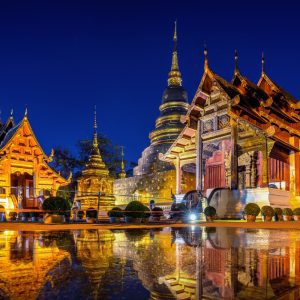 Day 1
As you reach the airport, proceed towards Immigration to obtain a Thailand tourist visa on arrival. After clearing the Immigration, you will be greeted by our local representative for your hotel transfers. Check-in at the hotel. The first day is free to relax and enjoy the hotel on your own. Overnight stay at the hotel.
City Pattaya
Day 2
After breakfast at the hotel, you will be picked up and headed to Pattaya Beach, where the speedboat will take you to the beautiful Koh Larn Coral Island. As you arrive, you will be amazed by its vast white-sand beaches and crystal-clear blue water. Plan your stay how you like it—relax on the beach, snooze in the sun, swim in the ocean, or try out some water sports, including waterskiing, parasailing, and windsurfing (for an additional fee and subject to availability). After working up an appetite, enjoy a delicious lunch of Thai dishes at an introductory yet pleasant, open-air restaurant right next to the beach. After an action-packed or relaxed day, the speedboat returns to Pattaya Beach, where your shuttle bus will return you to your hotel. In the evening, you will visit the Alcazar Cabaret Show. As the curtain rises, "The Wondrous World" begins. Glittering costumes, flashing lights, and vibrant backdrops catch your eye as you settle in for this exhilarating show. You'll find yourself clapping your hands and tapping your toes along with the beats during this hour-and-a-half-long show.
As the show comes to an end, take the opportunity to snap some pictures with the performers before you make your way back to the hotel for overnight stay
City Pattaya                              Meals included –  Breakfast,   Lunch
Day 3
After breakfast at the hotel, proceed for a tour of Art in Paradise. It is a unique Trick Art Museum that defies all common characteristics of ordinary art museum. This is the place where art lovers can get up close and personal, actively interact and actually be physically at one with each masterpiece. Not only are you able to become part of each frame by putting yourself right into the picture but also make each picture your very own by adding your personal interpretation to its background beauty. Art in Paradise is the largest illusion art museum, there are more than 150 3D interactive paintings here.
City Pattaya                              Meals included –  Breakfast
Day 4
Today after breakfast, check out from your hotel. You will be picked up and transferred to Bangkok. Upon reaching Bangkok proceed for the city tour, which takes you to some of Bangkok's most distinguished Buddhist temples, locally known as Wats. Visit Wat Traimit, Temple of the Golden Buddha, which is home to a 5.5-ton statue of the holy Buddha made from solid gold and is a fine example of Sukhothai art. Later check in to your hotel in Bangkok.
Day 5
Today you are free to shop in Bangkok City
City Bangkok                             Meals included –  Breakfast
Day 6
Today after breakfast, check out from your hotel. If your flight is in the evening you can spend the day doing some shopping at Pratunam or visiting one of the popular malls like Platinum Fashion Mall or MBK Center. Later you will be transferred to the Airport to catch your return flight back home.
Meals included –  Breakfast
Accomodation Details
City              Night                  Option
Pattaya         3                    Centara Pattaya Hotel (4 ★ ) – deluxe room (01 Room)
Bangkok      2                    Gold Orchid Bangkok (4 ★ ) – Superior room (01 Room)
Other Facility
Free Wi-Fi
Airport transfers – Private
Inter Hotel Transfer- Private
Inclusions
Pattaya
3 nights in Pattaya
Stay at Centara Pattaya Hotel (4 star) Room Included – Deluxe Twin Room Bed and Breakfast
Non-refundable
Bangkok Airport to Pattaya Hotel Transfer – Seat in Coach from Suvarnabhumi Airport
Half-Day Coral Island Tour with Indian Lunch – Seat in Coach
Alcazar Show – Normal Seat – Seat in Coach Art In Paradise – Tickets with Private Transfers
Transfer to Bangkok + City and Temple Tour with Gems Gallery – Private Bangkok
2 nights in Bangkok
Stay at Gold Orchid Bangkok (4 star)
Room Included – Superior Double Room (Breakfast)
Bangkok Hotel to Airport Transfer One-Way – Private to Suvarnabhumi Airport (BKK)
Terms & Conditions
We are not responsible for any Visa Rejection as it is a government agency that issue
Passport should be valid for a minimum of 06 months till the return date for
The above quotation is valid for Indian Nationals and a minimum of 2 adults traveling together at all
Above all are subject to availability, no booking has been made yet, in case of non-availability similar hotels/services will be
Any request for a King Bed or Twin Bed, a room near to each other in case of 2 or more rooms booked in the same hotel, is subject to hotel
We have limited inventory hence prices can change without prior To get benefit at the current proposed prices, we recommend you to book with us immediately.
Early check-in and late check-out are subject to the availability of rooms at the time of check-in, and the same is not guaranteed, you may be charged for guaranteed early check-in and late
The tourism tax is imposed by of (Malaysia of 10-15 Ringgit) / (Dubai of 10-15 Dirham) per room per night, which is to be paid at the hotel only, and the cost is not included in the cost of the package.
National Park fee is charged on island visits in Thailand 400 PHB per Adult/ 200 PHB per Child, which is to be paid on the island directly, and the cost is not included in the cost of the
Hotels may charge a security fee which is refundable at Check-out
Gratuities imposed on the cruise are not included in the package unless mentioned
RTPCR test is not included in the package unless RTPCR to be given by the hotel/resort as complimentary is solely the hotel's discretion.
Courier charges / Photo charges developed by us at the time of visa are not included in the package cost as they may vary and will be paid additionally by the
CANCELLATION POLICY
In all other cases, the cancellation charge will be as per the booking condition of the tour and shall be constrained to levy the following cancellation charges per
If cancellation is made any time not less than 31 days before departure, 10000/- per person shall be (Except ticket cancellation and Visa charges)
30- 16 days: 50% of the total land cost
15– 8 days: 75% of the total land cost
7 – 0 days: 100% cancellation will apply
COVID LOCKDOWN POLICY
If Lockdown happens one month before Travel Plan and we are not able to give services on the travel date, then we will refund the amount, and the refund will be processed after the travel date has been
If a Lockdown happens within one month of the Travel Plan, then the credit note will be provided to you, which can be used on future
Any cancellation without lockdown will be applied normally as per the cancellation