Royal Thailand Tour Package For Phuket & Krabi (6 D / 5 N)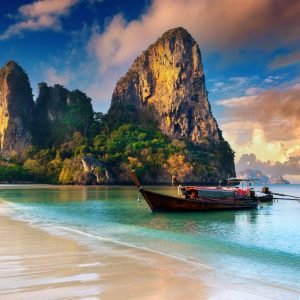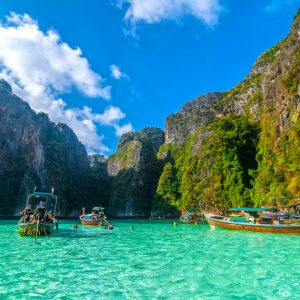 Daywise Itinerary
Day 1
Private transfer From Phuket Hotel to Krabi Hotel by Road
City Krabi
Day 2
After breakfast, proceed for Krabi Four Island Day Trip. Explore the islands of Koh Tup, Koh Gai, Koh Poda and Phra Nang Cave Beach via boat on this day trip from Krabi. Start your day trip in the morning by first going to the scenic Koh Tup Island, famed for its tidal sandbank. Wander the unique formation of shoals and picturesque coastline. Next, head over to Koh Gai Island, also known as Chicken Island, for its similar appearance to the head of a chicken. Here, dive into the exquisite, azure water for a swim or go snorkeling to closely observe the variety of sea creatures. Break for a delicious picnic lunch at Koh Poda Island and take time to relax on the white sandy beach, snooze in the sun, and observe the stunning scenery. Your last stop is at the breathtaking Phra Nang Cave Beach. Explore the grotto caves, watch as daring climbers ascend the rocks, and swim in the warm waters inside the caves
Meals included    Breakfast,  Lunch
City Krabi
Day 3
Take your fill at breakfast early this morning, pack your bags, and check out from the hotel. Today we bid goodbye to Krabi and further our vacation to a much more exotic destination – Phuket. On arrival at Phuket, check in to your hotel (Standard Check-in time: 1400 – 1500 hours) and relax. The rest of the day is free at your own leisure. In the evening, you can go out and get acquainted with your nearby areas and relish some freshly made cuisines at local seaside restaurants. Later return to the hotel for a relaxed sleep.
Today you will head for the Phuket Half-Day City Tour. Drive along scenic beach roads via Patong, Karon, and Kata Beach, with a stop at Karon/Kata Beach. Visit the Karon viewpoint, one of the most frequented viewpoints in Phuket, where you can see the three beaches, Kata, Kata Noi, and Karon. Next, visit the largest and most revered Chalong Temple built in 1837. Experience the old-world charm of Phuket Town with its colonial Sino-Portuguese architecture. Pay a visit to the Cashew Nut factory and shop for local products. Later return to the hotel and relax
Meals included    Breakfast
City Phuket
Day 4
Today is free for you to explore Phuket on your own
Meals included    Breakfast,  Lunch
City Phuket
Day 5
Phi Phi Island Tour with Lunch, transfer by Speed Boat. Chalong Pier/Other Pier For Hotels In Patong, Kata And Karon Only.
Meals included    Breakfast,  Lunch
City Phuket
Day 6
Today after breakfast, check out from your hotel. If your flight is in the evening, you can spend the day doing some shopping at Pratunam or visiting one of the popular malls like Platinum Fashion Mall or MBK Center. Later you will be transferred to the Airport to catch your return flight back home.
Meals included    Breakfast
Accomodation Details
City                    Nights                                 Option 1
Karabi                 2          Deevana Plaza Hotel (4 ⋆) – SUPERIOR Room (02 Room) – CP (Only Breakfast)
Phukrt                3           Oakwood Hotel Journey hub Phuket (4 ⋆) – Deluxe room (01 Room) – CP (Only Breakfast)
Pricing
Package total rates in INR for all pax
Category                       Total
Option 1                      24000
Grand Total (Option 1) – Per Person 
INR 24000
Terms & Conditions
We are not responsible for any Visa Rejection as it is a government agency that issue
Passport should be valid for a minimum of 06 months till the return date for
The above quotation is valid for Indian Nationals and a minimum of 2 adults traveling together at all
Above all are subject to availability, no booking has been made yet, in case of non-availability similar hotels/services will be
Any request for a King Bed or Twin Bed, a room near to each other in case of 2 or more rooms booked in the same hotel, is subject to hotel
We have limited inventory hence prices can change without prior To get benefit at the current proposed prices, we recommend you to book with us immediately.
Early check-in and late check-out are subject to the availability of rooms at the time of check-in, and the same is not guaranteed, you may be charged for guaranteed early check-in and late
The tourism tax is imposed by of (Malaysia of 10-15 Ringgit) / (Dubai of 10-15 Dirham) per room per night
which is to be paid at the hotel only, and the cost is not included in the cost of the
National Park fee is charged on an island visit in Thailand 400 PHB per Adult/ 200 PHB per Child, which is to be paid on the island directly, and the cost is not included in the cost of the
Hotels may charge a security fee which is refundable at Check-out
Gratuities imposed on the cruise are not included in the package unless mentioned Flight
RTPCR test is not included in the package unless RTPCR to be given by the hotel/resort as complimentary is solely the hotel's discretion.
Courier charges / Photo charges developed by us at the time of visa are not included in the package cost as they may vary and will be paid additionally by the
CANCELLATION POLICY:
In all other cases, the cancellation charge will be as per the booking condition of the tour, and we shall be constrained to levy the following cancellation charges per
If cancellation is made any time not less than 31 days before departure, 10000/- per person shall be (Except ticket cancellation and Visa charges)
30- 16 days: 50% of the total land cost
15– 8 days: 75% of the total land cost
7 – 0 days: 100% cancellation will apply