Premium Andaman Nicobar Tour Package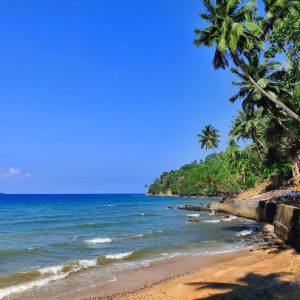 No of persons – 2
Duration – 4 Nights, 5 Days
Land Package cost – INR 40500
Detailed Itinerary
Day 1 – Arrival, Jail + Light and Sound Show
After arrival, check-in at your hotel and get ready to visit the Cellular Jail – A famous pilgrimage destination for the freedom fighters. Also, enjoy the beautiful light and sound show.
Day 2 – Excursion to Coral Island North Bay and Ross Island
After breakfast, start off for a full-day excursion to Coral Island (North Bay) to see coral reefs, exotic varieties of beautiful ornamental fish, and other marine life. This is an ideal place for snorkeling, as this sandy beach, coupled with clear water, has a breathtaking spectacle. Please carry your lunch pack, drinking water & changing dress. (Water sports activities available here are Scuba diving, underwater sea-walk, Snorkeling, glass bottom boat ride, Jet ski- water scooter, Banana boat ride, speed boat, etc., on a direct payment basis).
After North Bay, Visit Ross Island, the former residential and administrative island of the British during their rule of South East Asia, which was nicknamed the Paris of the East. This island was completely destroyed in an earthquake, now in ruins. Overnight stay at respective Hotel at Port Blair. The ferry departs at 09:30hrs, please report to the complex by 09:00hrs – subject to weather conditions). Contact us if you want a private boat for the above trip, perfect for 5-7 people. Optional: Diving and Sea Walk at North Bay.
Day 3 – Port Blair to Havelock and Excursion to Radhanagar Beach
After breakfast, get a transfer to Phoenix Bay Harbour to catch a ferry to Havelock. The Island (often just called Havelock) is one of the most beautiful and largest islands of Ritchie's Archipelago and is a placid heaven like no other. Situated 5757 km northeast of the South Andamans with an area of 92 sq. Kms, it offers a breathtaking trail of nature expeditions. The island is primarily populated by Bengali settlers.
This picturesque Island with beautiful sandy beaches and lush green forest is also rated as the seventh most beautiful island in the world. It hosts two of the world's most renowned beaches; Vijaynagar Beach and Radhanagar Beach. The Island also has the biggest concentration of breathtaking diving and snorkeling sites, thus acting as a paradise to marine world explorers.
On arrival, a cab will be provided to pick up and drop off guests at Beach No 7, Radhanagar Beach, rated as the best beach in Asia. Spend the day relaxing on this beach. Later proceed to the selected hotel. Stay here overnight amongst sandy beaches and lush green forests in a comfortable beach resort.
(Note – PLEASE READ FERRY CANCELLATION POLICY CAREFULLY BEFORE STARTING YOUR VOYAGE TO EITHER HAVELOCK OR NEIL.)
This day, your breakfast will be at Port Blair. If you are traveling by an early morning ferry, ask the Hotel to give you a packed breakfast.
Ferry timings are mentioned in the tickets provided to you. Please report 45 minutes prior to departure with a valid photo id card issued by govt. competent authorities. Ferry timings are subject to weather conditions.
Carry only the limited essential luggage to Havelock/ Neil. Class of ferry and timings is subject to availability at the time of confirmation only.
Day 4 – Havelock Island and Excursion to Elephant Beach
Trip to Elephant Beach: Embark on the most memorable snorkeling trip, just 40 min by Boat. This beach offers snorkelers, calm blue shallow waters and is the perfect spot for beginner snorkelers. The boat goes right up to the beach, and it's so easy to slip on your gear and start snorkeling. It's also a great place to spend the day lying on the beach and relaxing. Its scenic views of fallen trees and white sand give the photographer some interesting shots. The reef here starts very close to shore at a depth of about 1 meter. The large reef is mostly made up of hard coral and has plenty of marine life.
Note: Inclusive of snorkeling equipment and car pick up and drop to jetty. This trip is inclusive of transfers & boat charges. Guest may also hire a 2-wheeler and take a round of the Island or may choose to go for Scuba Diving or Game fishing on a direct payment basis. This trip may change to a Light house due to weather conditions; Ferry Operation is purely Subjected to Govt clearance.
Day 5 – Departure
Transfer to the airport and departure with unlimited memories.
Cancellation Policy
If cancellations are made 30 days before the start date of the trip, 25% of the total tour cost will be charged as cancellation fees.
If cancellations are made 15-30 days before the start date of the trip, 50% of the total tour cost will be charged as cancellation fees.
If cancellations are made within 0-15 days before the start date of the trip, 100% of the total tour cost will be charged as cancellation fees.
In case of unforeseen weather conditions or government restrictions, certain trips or activities may get canceled. In such cases, the operator will try their best to provide an alternate feasible. However, a cash refund will not be applicable for the same.
Cancellations are strictly subject to cancellation policies mentioned on the website & are irrespective of the date of booking.
Bank Account Details
ICICI Current Account
033105005434
Book My Bharat
IFSC code – ICIC0000331
Ashok Vihar, Delhi